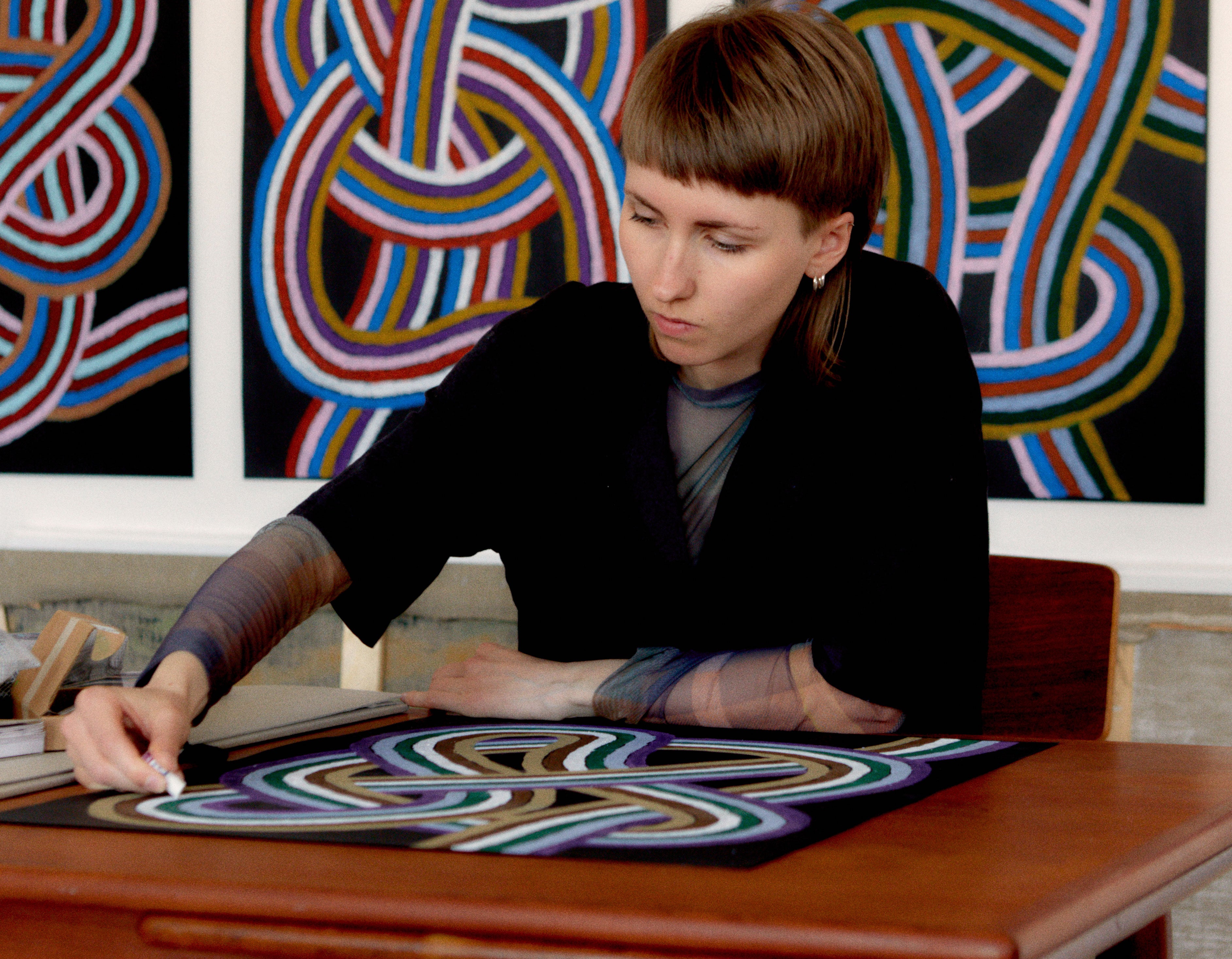 Linn Henrichson (b. 1993) is a multi-disciplinary artist from Finland whose practice encompasses both painting, drawing, textile production, printmaking and pattern design. The artist, who is now based in Copenhagen, works with an abstract visual language which often juxtaposes analogue crafting with digital technologies. We have asked her to give an introduction to herself and her artistic practice. 
"My educational background is in graphic design. I went to an art specialized high school in Helsinki and started studying graphic design at Aalto university right after that. I think it was a natural choice for me, since my expression was leaning towards graphic design already back then. I remember always collecting magazines and posters in order to make collages out of them as a teenanger. When I started university I was trying out a bit of everything and I also started working in the field right from the start. When working as a graphic designer, I realized quite quickly how important it is for me to have an artistic angle to my practice. I began to look for work where I had more artistic freedom, making murals and commissioned artworks. A few years ago I did an MFA at Konstfack, where my focus was on finding a more expanded approach to my work, applying my background in graphic design to a range of different media and techniques that are more associated with other artistic fields. Since graduating from there I've been combining different types of design work with my own artistic practice. 
I get the best workflow when I have a plan for what I'm going to make, but for a work to be really good there also has to be an element of spontaneity or intuition at a base. I think most of my ideas develop from sketches I've made while drawing on intuition, or through an unexpected mistake or error in a process that turned out to have something visually intriguing about it. When I get an idea I usually plan for a whole series that I'm going to make so I can work with that concept for a longer time. I often try to explore a new medium in the process also, just to keep it interesting for myself. 
Currently my artistic practice mostly ranges from painting and drawing to textiles to different forms of printmaking. I often combine analogue craft with digital elements, especially when working with printmaking. I like when it's difficult to tell if the motive is made digitally or not. When I'm drawing it's more straight forward. Lately I've been drawing with oil pastels a lot, since it gives my otherwise quite neat drawing style that messy contrast that it needs. 
I get inspiration from all over the place, from walking around and looking at things to seeing a good film. There's also something about the logic in science that inspires me. It can be thrilling to look at something that's visually interesting and also has a complex logic to it. Like studying old maps, an open machine board or looking at the minerals in a rock. One obvious source of inspiration for me is also just going to an exhibition or a museum. When seeing the work of other artists that inspire me it always triggers me to work on my own stuff. 
These works are all depictions of different knots. A few months ago I got obsessed with the idea of learning to tie different knots that can be used for practical purposes. It started from a situation where I had to carry a really heavy box and I had a rope but I just didn't figure out the best way to tie it. Why is that not common knowledge? It's such a simple and handy skill to have. As a child I knew how to tie different knots but I'd forgotten all about it, so I ended up going to the library to borrow a few books on the topic and then I went home to practice. At that point I knew I wanted to make a series of work out of it, it just made sense."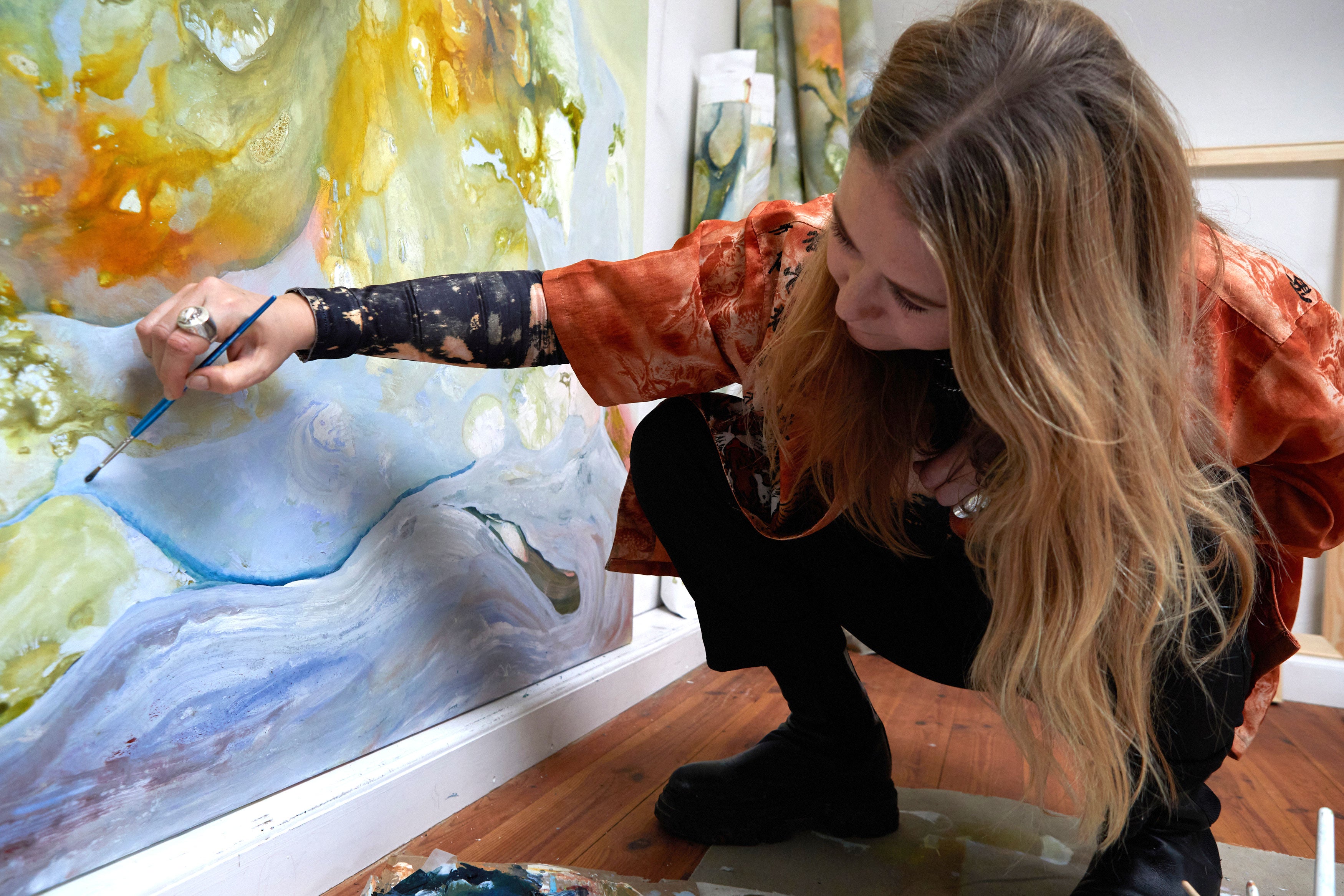 Astri Styrkestad Haukaas is an artist driven by her passion for the materials she works with. Her approach is experimental and focuses on elements such as tactility and the power of different com...
Read more