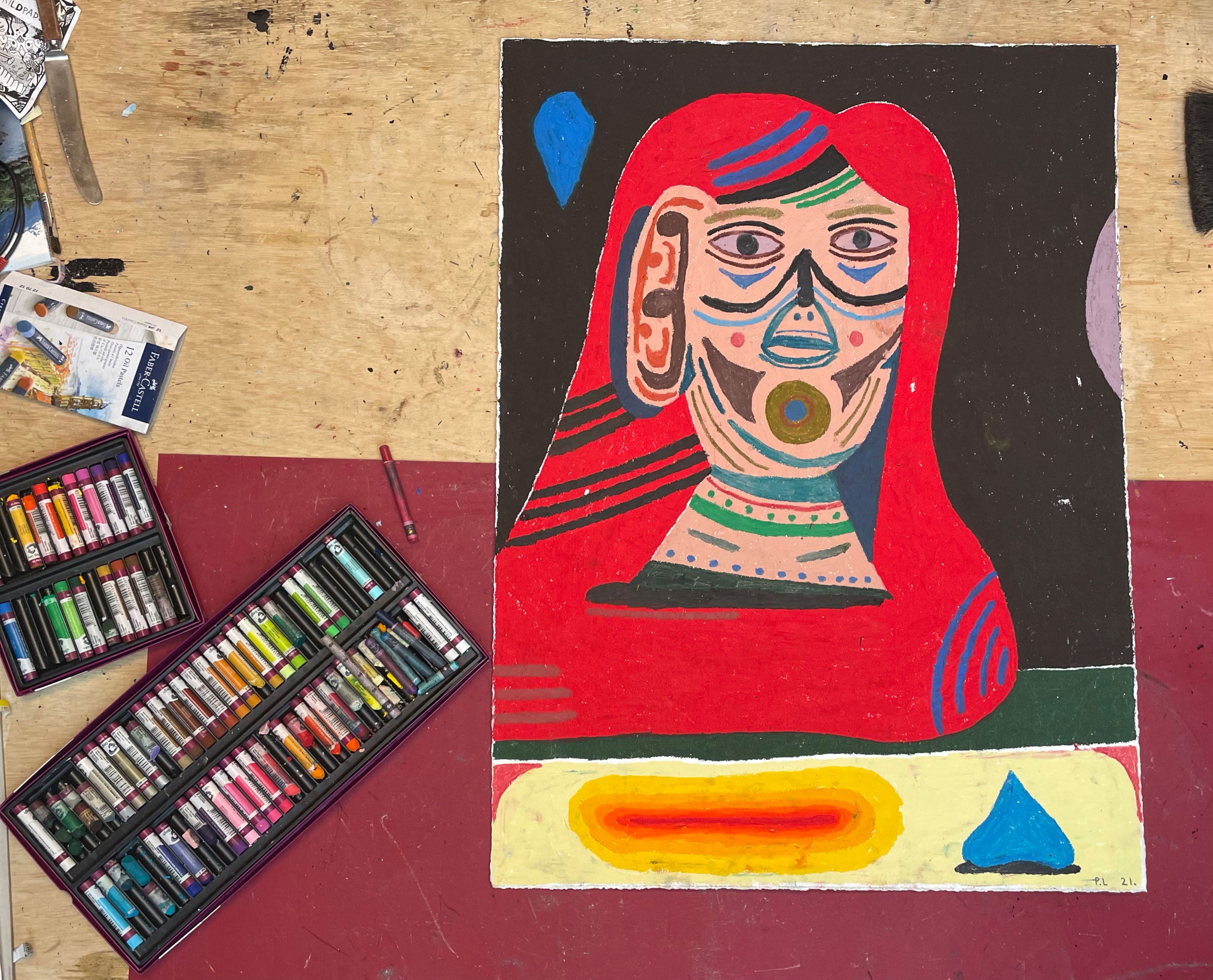 Peter Larsen is a visual artist working within a broad variety of media. He works with painting, oil-stick drawings, pencil drawings and prints such as lithography, lino-cuts, monotypes and etchings. Common for his motifs is a playful, modernist and surrealist approach to the subject matter. We asked him to introduce himself and his practice.


"I was born in Glostrup in 1984. I grew up skateboarding and it has always had a great impact on how I looked at the world. Both in terms of art and the way I navigate in my life and society. I remember that from a very early age I was able to say fuck you to grown-up people, when they tried to kick me out of a skate spot.
I think it's important that you, at some point in life, realise that some rules apply to you and some don't. It's the same with art. I believe that you need a set of rules to be able to form an idea. But then when you start working on it, that set of rules don't apply to the work anymore. A set of rules can be a good thing to have if you want to improve your talent and be better at what you do. But also more importantly, a good thing to let go of, when you are doing status of your artistic endeavours.
I have been drawing all my life, as long as I can remember. After finishing high school I was dead set on going to the Royal Danish Art academy. I applied three times and got accepted the third time. Suddenly being in charge of my own practice and not having anybody to tell me what to do was hard at first. I guess trying to invent something, that does not exist, every morning when you arrive at your studio is super hard. But it gets easier if you work hard enough. I dont think that anyone has made a perfect piece of art the first time they try. Does it even exist? But putting a lot of hours into your work and constantly having a desire to be better at it makes it easier to produce artworks. It also makes it easier to finish an artwork and to start a new one after. After all, you are your own hardest critic.
My work process is divided into several work processes actually. When I do drawings I do it one way and when I am making prints I do it another way. When I am painting, I have no idea of what my work process is at all. When it comes to printmaking I love the calm time when I am finished etching the copperplate or preparing the lithography stone. Just before I start making the prints and everything is finished and ready for printing. All your ideas and artistic visions are done. It's just working with the prints now. I like that time. You can shut off and let your body do the rest.
I find inspiration for my work everywhere. All images are equal. Sometimes I sit and think about what pictures and stories I would like to create, sometimes they appear when I start working. Inspiration is weird because I feel its more present when I work a lot. I also steal a lot from other artists both dead and alive. I see no problems with that. Everything is just a way of examining ways of creating images. I also have a side gig of playing in a lot of stupid punk bands and I love to listen to Jazz."
Mikael Hallstrøm works with materials such as the familiar ball-point pen and watercolours. He describes his fascination with the ballpoint as a passion for discovering the richness of a medium we ...
Read more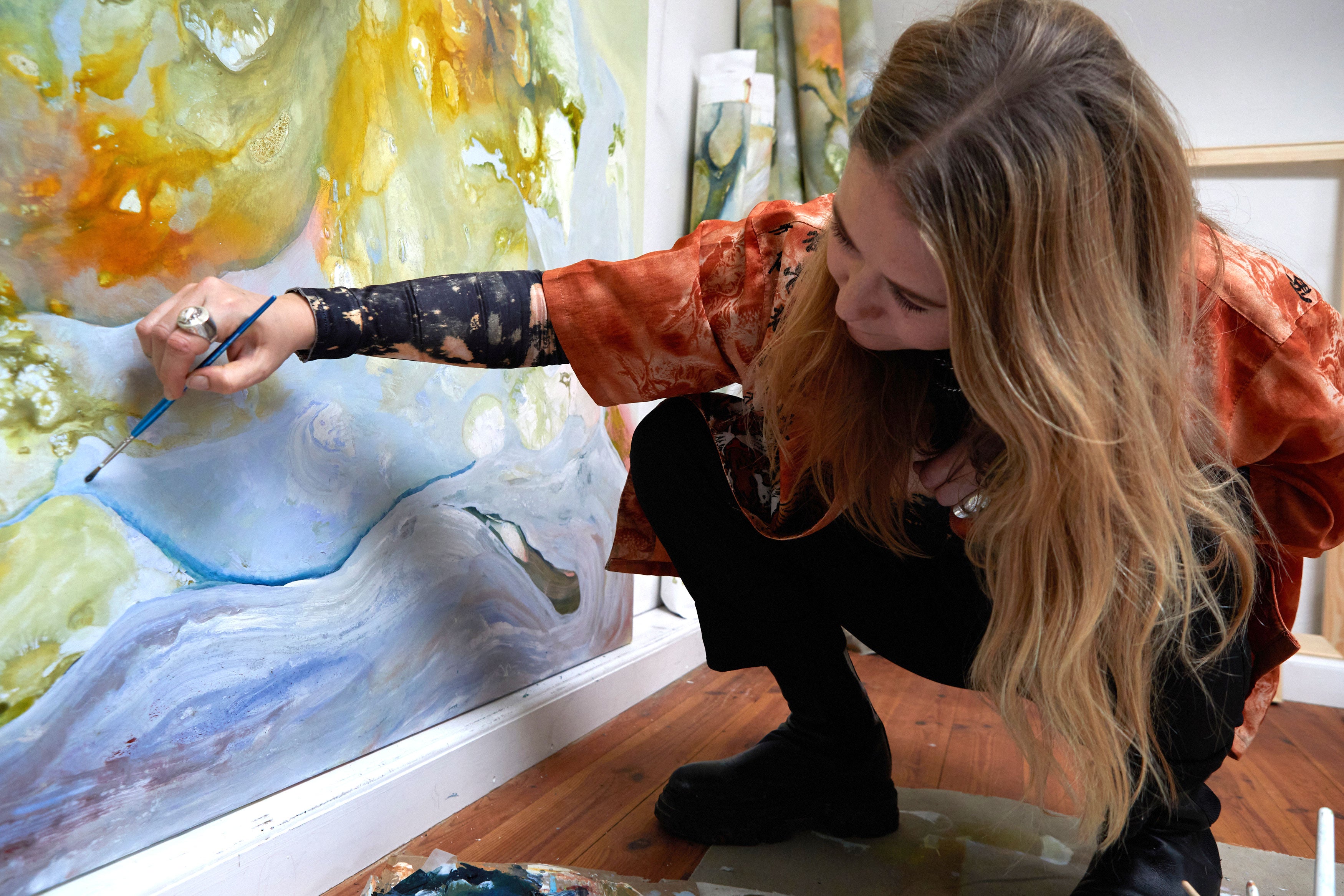 Astri Styrkestad Haukaas is an artist driven by her passion for the materials she works with. Her approach is experimental and focuses on elements such as tactility and the power of different com...
Read more